 "Tone up your life with music"
京都木屋町で最高のレコード音楽に浸りませんか。P.M.SOUNDSはジャズ黄金時代の名盤からJ-POPまで幅広いジャンルの音楽を心地よい音量で皆様にお届けします。お供にはクラフトビールとジャパニーズウィスキーを用意しています。楽しかった京都の1日の締めは音楽で。
Would you like to enjoy the best vinyl record music in Kiyamachi, Kyoto?
P.M.SOUNDS delivers a wide range of music genres, from the classics of the golden age of jazz to the latest J-POP hits, at a pleasant volume.
With craft beer or Japanese whiskey in hand, you can end your enjoyable day in Kyoto with beautiful music.
P.M. SOUNDS STORY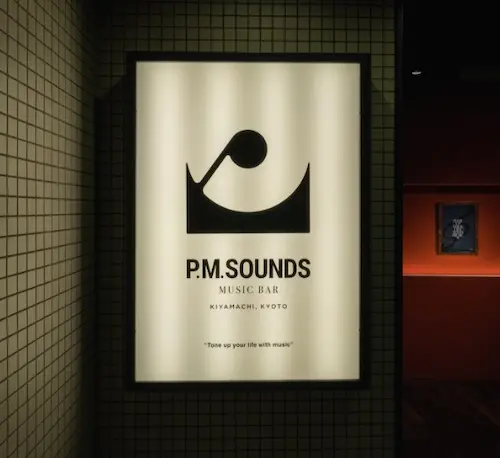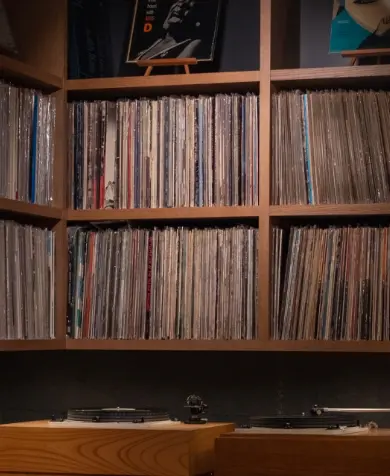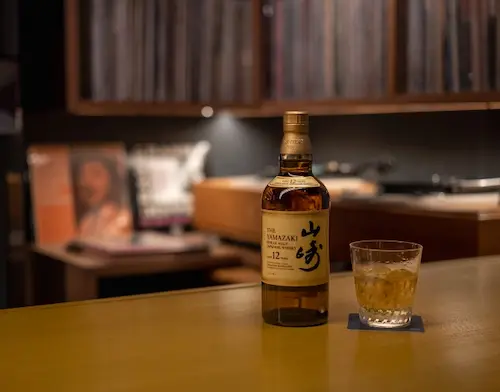 カリフォルニア、トーランス市ダウンタウンにあったレコード店の名前。(現在はSan Pedroに移転)。
25年前に駐在した米国子会社は赤字続き、つたない英語で疲れ果てた心身を癒してくれたのは金曜仕事帰りのジャズレコード漁り。
オリジナル版を財布と相談しつつ買い集めました。
コロナ前にオーナーのErvingさんに15年ぶりに再会。
私のことをよく覚えてくれており、ミュージックバーの計画を喜んでくれるとともに、名前の使用を許可いただきました。
P.M.SOUNDS means night time music.
P.M.SOUNDS is the name of a record store that was located in downtown Torrance, California (now relocated to San Pedro).
25 years ago, during my assignment, the subsidiary in the U.S.
I worked for was running in the red, and while struggling with my limited English skills, I found solace in hunting for jazz records on Friday evenings after work.
Considering whether I can afford it, I searched for the original editions and gradually built up my collection.

Before the pandemic, fortunately I had a reunion with the owner, Erving, after 15 years.
He remembered me well and not only expressed his delight in hearing about my plans for this music bar but also granted permission to use the name of the store.
SOUND SYSTEM
SPEAKER:JBL Project K2 S9500
TURN TABLE:GARRARD MODEL 301 ×2
CD PLAYER:EMT931
PRE AMPLIFIER:MARK LEVINSON 26L
POWER AMPLIFIER:JBL6290 QUAD405
オーナーの50年にわたるオーディオ・音楽・レコードへの熱が、P.M.SOUNDSとして形になりました。サッチモの輝きと悲しみ、チェットベーカーの色気が感じられる音を目指しています。独りよがりにならない様に偶に東京御茶ノ水から音づくりの専門家ヤマモトコウジさんに来て頂きアドバイスを受けています。
The owner's passion for audio, music, and records over 50 years has taken shape as P.M.SOUNDS.
We aim to realize a sound that fully captures the brilliance and sadness of Louis Armstrong and the sensuality of Chet Baker.
To avoid becoming self-indulgent, we occasionally seek advice from Koji Yamamoto, a sound production expert from Ochanomizu in Tokyo.
INFORMATION
京阪三条駅から徒歩4分/阪急河原町駅から徒歩8分
京都市中京区大黒町71-21 CT・BEACH山口ビルB1
CT・BEACHYAMAGUCHI Bldg. B1,
71-21, Nakagyo-ku, Kyoto, 604-8031, Japan
Phone 090-6225-4962
OPEN 18:00〜24:00
※予約可 / 不定休